Donald Trump Flight Simulator
The Republican presidential candidate's two private planes have flown the equivalent of 20 circles around the earth since 2011
Few candidates arriving at tonight's GOP debate have the option of doing so in their very own Boeing 757. But then again there are few candidates like Donald Trump.
According to data provided by the Federal Aviation Administration via a Freedom of Information request, Trump's two planes—the 757 and his Cessna Citation X—have flown a total of 504,316 miles over the course of 538 trips between Jan. 2011 and April 2015. That's equivalent to circling the earth 20 times.
Hover over the flight paths in the map below to see where else Trump has been jetting. Scroll or pinch to zoom. Click and drag to change the map's center.
Trump's favorite destination, outside of his hometown of New York City is West Palm Beach, the airport closest to the Trump resort Mar-a-Lago. Trump's planes have landed in the Florida city 53 times during the period. The second most popular destination for Trump's flights are Washington, D.C., followed closely by Oxford, Connecticut.
Trump's travels in 2015 reflect his recent presidential bid, with three flights to Manchester, N.H., where he leads in the polls by over 10 points according to Real Clear Politics.
The 757 has touched down in Iowa three times in 2015, in January, April, and most recently in June after announcing his presidential bid.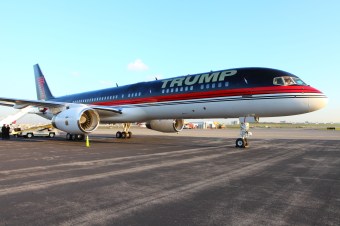 Photo by: Douglas Gorenstein/NBC via Getty Images
Trump's Boeing 757, purchased in 2011, reportedly comes with 24k gold-plated seat belts and flies at speeds over 500 miles per hour. His Cessna Citation X corporate jet holds 12 passengers, but forgoes the family name plastered across the aircraft. Trump once owned 17 Boeing 727s, acquired when Trump purchased Eastern Air Shuttle. High pre–Gulf War fuel prices and low interest in his carrier forced Trump Shuttle out of business in 1992.
Zeke J. Miller contributed reporting to this story.