To find the city where people are eating the most burgers, you'll want to head for Knoxville, Tenn. Then make your way to Ypsilanti, Mich. The pair of college towns, home to the University of Tennessee and Eastern Michigan University respectively, lead a new ranking of the cities where Americans are most likely to order a hamburger.
Online food delivery company GrubHub analyzed millions of meal orders taken in 2014 by Americans in more than 900 American cities and provided the results to TIME, revealing new insights into how Americans covet their burgers.
With grilling season fired up, check out the map below to see the many different burger capitals of America and the regional preferences that define a meal now as American as apple pie. Some are not so surprising: Sourdough buns are more popular in San Francisco than anywhere else. In Austin, salsa is king. But there are many surprises: Chutney rules Boston and when it comes to burgers, Richmond, Virg., turns out to be the arugula capital of America. Check out others regional burger quirks in the map below.
People like their burgers how they like them. So build your ultimate burger below and we'll tell you where your taste buds would feel most at home.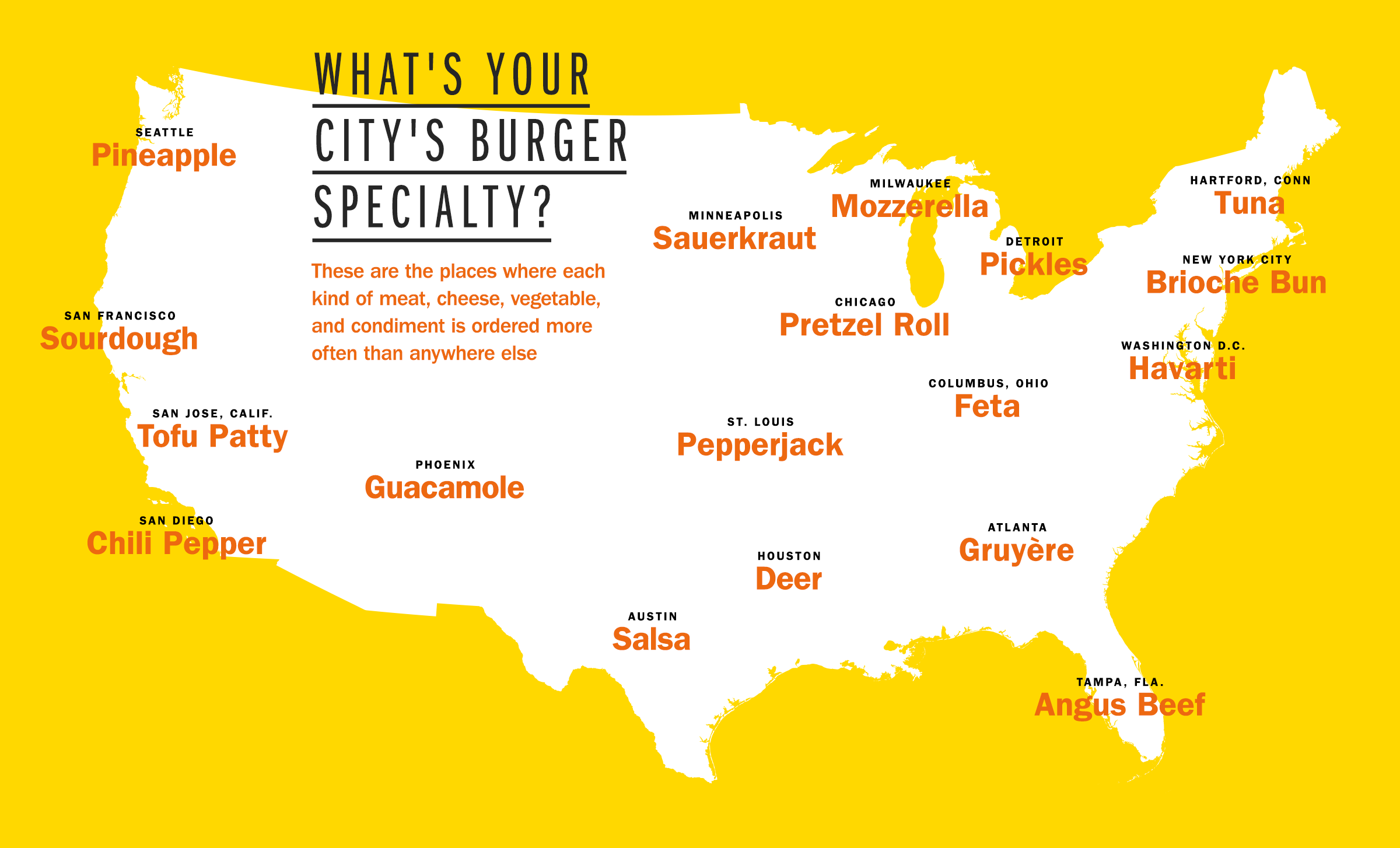 TOP BURGER CITIES
Knoxville, Tenn.
Ypsilanti, Mich.
North Hollywood, Calif.
San Antonio, Texas
Saint Louis, Mo.
Las Vegas, Nev.
Newark, N.J.
Milwaukee, Wis.
New Brunswick, N.J.
Union City, N.J.
Fort Lee, N.J.
Tampa, Florida
Minneapolis, Minn.
San Jose, Calif.
New York, N.Y.
Skokie, Ill.
West New York, N.J.
Harwood Heights, Ill.
Richmond, Va.
Fort Lauderdale, Fl.
Tempe, Ariz.
Yonkers, N.Y.
Venice, Calif.
Dorchester, Mass.
Chicago, Ill.
Santa Monica, Calif.
Alexandria, Va.
Berwyn, Ill.
Scottsdale, Ariz.
Marietta, Ga.
Hoboken, N.J.
Jersey City, N.J.
Van Nuys, Calif.
Bowling Green, Ohio
Nashville, Tenn.
Glendale, Calif.
Dallas, Texas
Greensboro, N.C.